Experimental Biophotonics

Advanced light microscopy R&D areas:
Research on novel approaches in advanced light microscopy, especially holographic and two‑photon microscopy.
Theoretical study and numerical simulation of coherence effects in holographic microscopy, imaging in turbid media and axial localization based on coherence gating.
Development of advanced image-processing methods for holographic reconstruction, quantitative phase imaging (QPI), as well as pattern and process recognition and/or classification.
Applications in cell biology, cancer and neuroscience research:
Identification and classification of behavioural patterns in live cancer cells including biopsy-derived carcinoma cells using coherence-controlled holographic microscopy (CCHM).
Development of a strategy for personalized cancer treatment based on live-cell dry-mass profiling.
Investigation of cellular and molecular aspects of the hemodynamic response of the brain.
Applications in nanotechnology:
Novel methods of plasmonic phenomena observation in nanostructures with CCHM.
NEWS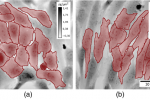 09.09.2020
​New paper by Dr. Lenka Štrbková "Automated interpretation of time-lapse quantitative phase image… Read more »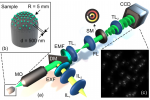 17.08.2020
New paper by Dr. Petr Schovánek, in collaboration with Dr. Petr Bouchal and prof. Zdeněk Bouchal "Optical topography of… Read more »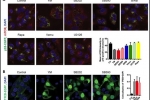 10.06.2020
New paper by Veronika Palušová, in collaboration with Dr. H. Uhlířová, Dr. A. Křížová, MUDr. P. Veselý… Read more »